Article ID: 304 | Rating: Unrated | Last Updated: Mon, Feb 15, 2021 at 1:24 PM
My Room Bridge
Description
My Room Audio Conferencing provides Personal Audio Conferencing for up to 8 attendees per conference. It is a reservation-less audio conferencing service that can be accessed from any phone, anywhere. You conduct the conference as the Chairperson.
Function
The UC Team Add-On includes the My Room Conferencing 8 feature, which provides each User with a feature rich, personal Audio Conferencing service for up to 8 participants. In order for Users with the UC Team Add-On to access the Audio Conferencing service via a Conference Bridge, a My Room Bridge needs to be configured at the Site level:
Configuration
Using the "Live Search" facility type in name of the Site you wish to amend.
Use the "Select button" to select the desired Site from the list shown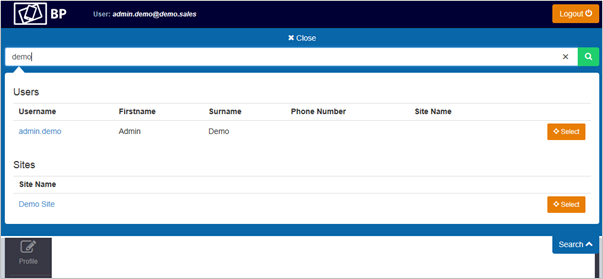 From the sidebar select Features
Scroll down to Portals & Bridges and select "Configure" My Room Bridge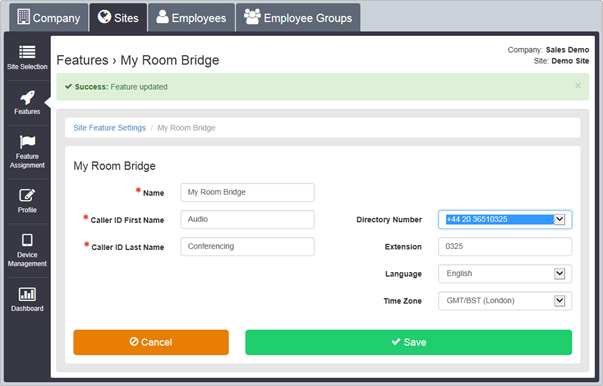 Enter a Name, CLI First and Last Name, select a Telephone Number to apply and enter an Extension Number for the My Room Bridge:
Click Save
The My Room Bridge has now been created under the Site. This will be the Audio Conferencing Bridge for all Users that have the UC Team Add-On, which includes the My Room Conferencing 8 feature. Users and external parties can dial into the My Room Bridge from any phone, on any network to participate in an Audio Conference.